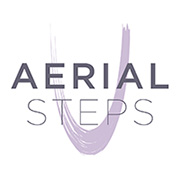 Aerial Steps is all about training you to use an Aerial Yoga hammock safely, creatively and relevant to enhance your yoga accreditation points. I have been teaching yoga since 2007 and Aerial Yoga from 2012, additionally I have practiced aerial skills in trapeze, silks and hoop since 2009.I also have completed my Introductions to teaching Aerial trapeze and silks with NECCA circus school, Level 1 in silks and cocoon.
Aerial Yoga is growing in popularity and isn't just another yoga fad! The yoga hammock might be the most creative prop you will ever use in you class but it is that simple, it is a prop. Whatever style of yoga you teach or practice, the Aerial hammock can be a great tool to use.
Prerequisites
This course is only for certified yoga teachers that are looking to develop a new and rewarding career in teaching Aerial Yoga .
Learn to:
Adapt Aerial Yoga practices to meet participants needs during a yoga session
Use an Aerial hammock to take yoga postures into the air
Use the hammock at different heights to include restorative/yin practices near the ground
Plan, prepare, instruct and adapt Aerial Yoga sessions
Design a balanced Aerial Yoga class
Relate the health and safety at work act to the health and fitness environment, while using a aerial hammock
Course Format
Blended learning
Assessment
Knowledge and understanding written questions
Worksheets
Practical assessment
Practice journal
Case study
Certification
Aerial Yoga Instructor
Active IQ endorsed certificate
Course price
£750 in person
£475 online
Payment methods
You can reserve your Aerial Steps place by using the deposit button below and paying the remainder 4 weeks prior to the course date.
Next training dates
Online teacher training  26th-27th February 2022    £475 
Edinburgh   2022 in person training  1st-2nd May 2022  £750
I also offer private aerial yoga teacher trainings where I deliver training in your studio (UK & Europe).This can include consultancy on setting up to be an aerial yoga studio.
For more information please get in touch.
If you have any questions please use the  contact us page
A non refundable deposit of £200 is required to reserve your place.